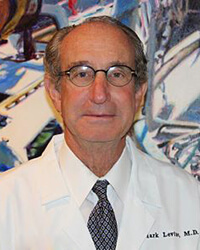 Dr. Mark Levine has been an oculoplastic and orbital surgeon for 37 years, and has an expert knowledge of the field. He has lectured nationally and internationally. Dr. Levine was Chief of Ophthalmology at Mr. Sinai Medical Center for 20 years. He is an Emeritus Professor of Ophthalmology at Case Western Reserve University.
Dr. Mark R. Levine is a fellowship-trained ophthalmic plastic, orbital and lacrimal surgeon. Dr. Levine was past president of the American Society of Ophthalmic Plastic and Reconstructive Surgery and is a member of the Distinguished Orbital Society.
Mark R Levine has been recognized and honored by being listed in Best Doctors in America, and in the Midwest Region. Dr. Levine has a lectureship in his name for ophthalmic and reconstructive surgery at Case Western Reserve University of Medicine.
Education
Amherst College
Hahnemann University
Ophthalmology Residency,
Case Western Reserve University
Fellowship in Oculoplastic Surgery at Bascom Palmer Eye Institute
Miami Florida
Manhattan Eye and Ear Infirmary
New York City, New York
Treatment and Services
Cosmetic Botox Injections
Eyelid and Brow Lift
Eyelid and Oculoplastic Surgery
Lacrimal and Orbital Surgery
Oculoplastics
Orbital Fractures
Reconstructive Surgery
Skin Cancer Reconstruction
Books Published
Over 250 peer review articles in journals and internet.
Smith and Nesi's Ophthalmic Plastic and Reconstructive Surgery, Third Edition
Manual of Oculoplastic Surgery, Fourth Edition
Handbook of Neuro-Ophthalmology and Orbital Disease, Diagnosis and Treatment, Second Edition