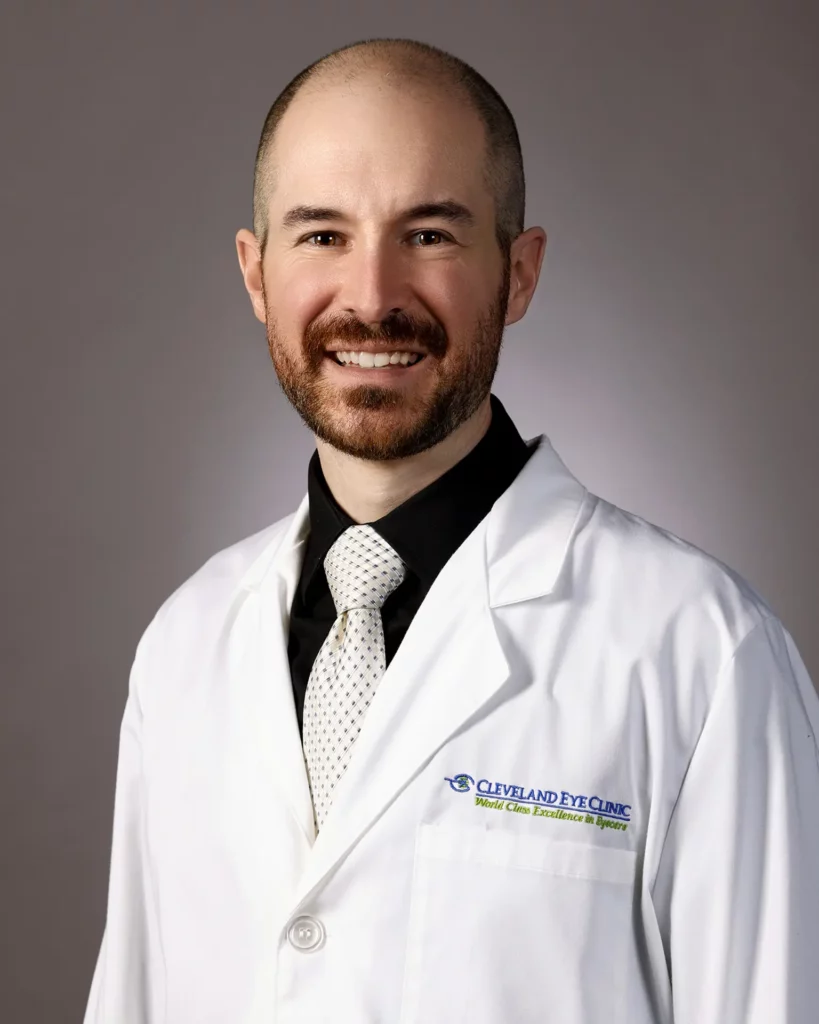 Cataract Surgeon, Strabismus Specialist, Comprehensive Ophthalmologist
Biography
Dr. Pierre is from the rural western outskirts of the Greater Cleveland area, and after receiving most of his medical training at our city's renowned institutions, has spent his career serving in his native community, well-supported by his family and his church. Like the other surgeons of the Cleveland Eye Clinic, he is known for his integrity, natural surgical talent, attention to detail, and perfectionistic pursuit of great results, and has access to the most cutting-edge technology available in this ever-advancing field. Patients appreciate his jovial demeanor, sincerity and transparency, and knack for educating them about their own individual condition, helping them decide on the best treatment for it. He is able to handle a wide variety of eye conditions, and is often called on to figure out some of the more puzzling cases, although he doesn't mind treating simple ones as well! He enjoys teaching, so you may notice a student observing during your visit with him, although he does all his own surgery.
In addition to performing basic cataract surgery, he offers refractive upgrades to cataract surgery, along with minimally invasive glaucoma surgery or laser. He also has a well-developed pediatric and adult strabismus practice, serving those patients with misaligned eyes or double vision. He can also perform eyelid surgery for a variety of visually-significant conditions. He is also very experienced with YAG vitreolysis, a procedure that not many surgeons offer, which is designed to reduce symptoms caused by floaters.
In his spare time, he and his wife, Hannah, are busy raising their three children and many pets. He also is a dedicated deacon and teacher at his beloved church in North Olmsted, and serves on the board at his kids' school. His life's goal is to bring glory to his Lord in all that he does–including his medical care for you.
Education:
Bachelor of Science: Cedarville University
Medical Doctorate: Case Western Reserve University
Master's Degree in Bioethics: Case Western Reserve University
Medical Internship: Cleveland Clinic Foundation
Ophthalmologic Residency: University Hospitals / Case Western Reserve University
Pediatric Ophthalmology and Strabismus Fellowship: Kresge Eye Institute / Wayne State University
Certification:
Ohio Medical License
Board Certification: American Board of Ophthalmology
Professional Societies:
American Academy of Ophthalmology
American Association for Pediatric Ophthalmology and Strabismus
Specialties:
Cataract surgery
Minimally invasive glaucoma surgery
Strabismus (eye misalignment)
Children's eye disease
YAG vitreolysis for floaters
Noncosmetic eyelid surgery
Hospital Affiliation:
Brecksville Surgery Center
Avon Surgery Center
University Hospitals: Elyria Medical Center
University Hospitals: St. John Medical Center