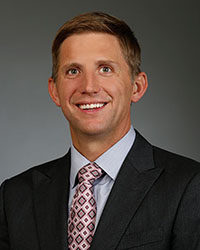 INTERESTING FACTS
William Wiley, M.D. had pioneered many eye procedures in the Northeast Ohio area. He was the first Cleveland physician to implant the Tecnis aspheric and ReZoom Multifocal Intraocular lenses available for cataract surgery. Dr. Wiley was also among the first physicians in the country to implant the Crystalens accommodative intraocular lens also available for cataract surgery. To date, Dr. Wiley has performed over 10,000 cataract and refractive surgical procedures.
He is a true Doctor's doctor in that over the past 4 years he has performed over 100 surgeries on physicians and their family members. In addition, he is the Assistant Clinical Professor of Ophthalmology, University Hospitals/Case Western University. Dr. Wiley currently resides with his wife and family in the suburbs of Cleveland, Ohio
HOSPITAL AFFILIATIONS
Community Health Partners
University Hospital – Bedford
EDUCATION
University of Virginia
Charlottesville, Virginia, BA, 1994
MEDICAL SCHOOL
Medical College of Ohio
Toledo, Ohio, Doctor of Medicine, 1998
OPHTHALMOLOGY RESIDENCY
Rush Presbyterian St Luke's Hospital
Chicago, Illinois, 1998 – 2002
ADDITIONAL EDUCATION
Chennai, India
Mini Fellowship: Micro-incision
1 millimeter Cataract Surgery, 2003
Harvard Medical School
Honors in Ophthalmology.
Clinical Externship, 1997
Moscow, Russia
Clinical Clerk with Dr. Fyodorov pioneer
of Radial Keratotomy, 1996
Hong Kong and Mainland China
LASIK surgery course (Studied LASIK prior
to approval here in the U.S.), 1995
CERTIFICATION
Ohio Medical License
Board Certified by the American Board of Ophthalmology
PROFESSIONAL SOCIETIES
American Academy of Ophthalmology
Ohio Ophthalmologic Society
American Medical Association
Ohio State Medical Association
Cuyahoga County Medical Society
International Society of Refractive Surgeons
Alpha Omega Alpha Honor Society
RECOGNITION
Recognized as a National Keratoconus Foundation Top Doctor and a Top Doctor by OH TopDocs in 2020!